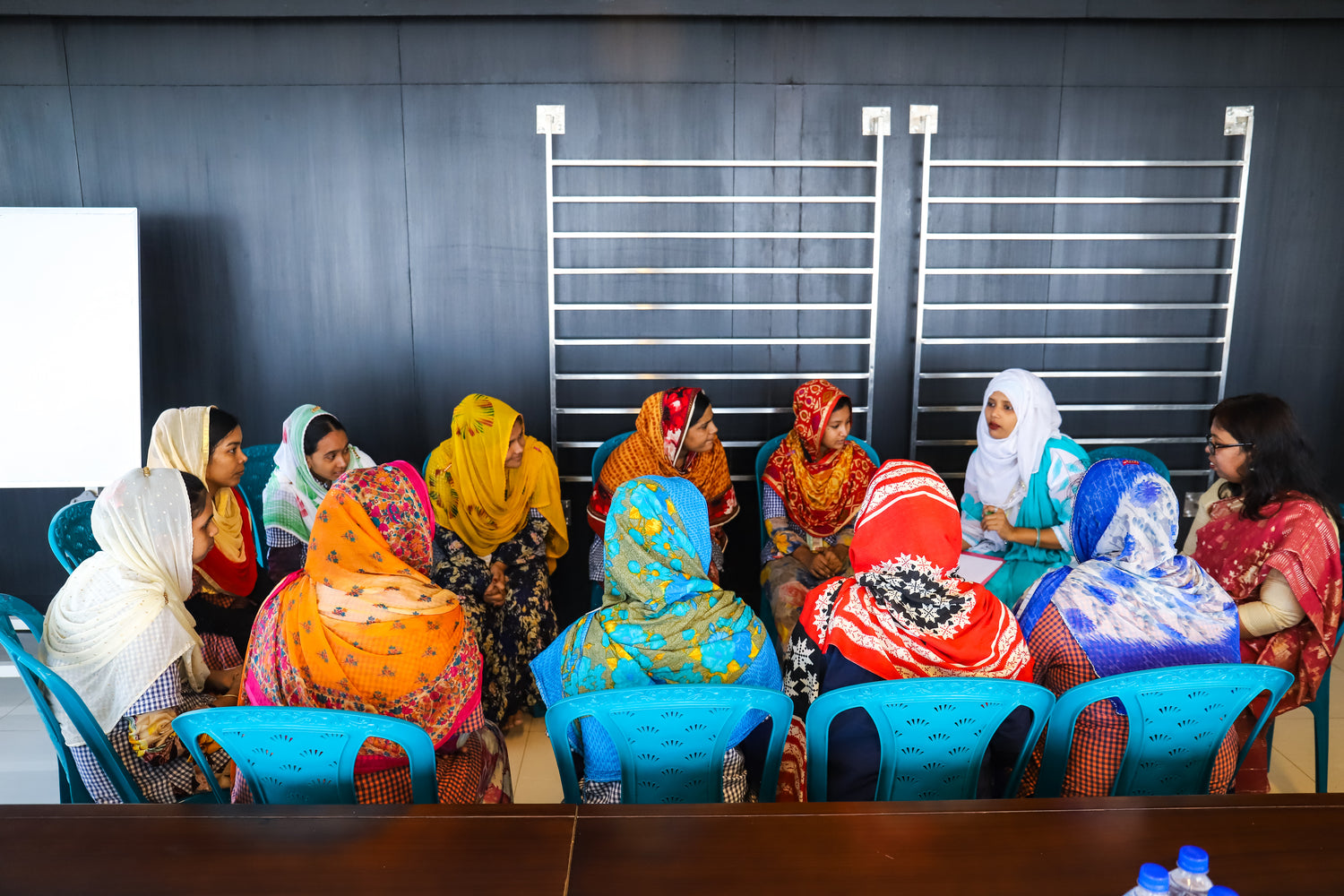 We believe in partnerships
We focus on a vertical integration model and partner with local organisations at every level of our impact supply chain.Our role is about bringing together our strategic cross-sector partnerships to help the most vulnerable people and ensuring effective impact measurement along every part of the chain. 
Our Business Model

SALES + DONATIONS + GRANTS = MULTIPLIED IMPACT
Our Three-Pronged Approach
Our three-pronged approach to finding sustainable menstrual health solutions and empowering the communities we work alongside.
Collapsible content
1) PRODUCTS

We are using design-thinking to create awesome, culturally appropriate products. Our crew has included working with Deane Apparel (NZ) to create period underwear, as well as iDE (Bangladesh) to create bags that enable discreet and hygienic cleaning and drying methods. We are soon to begin a trial in 2020 in a garment factory to understand which women prefer and what is most effective and affordable. 
​
What about the menstrual cup?
In 2017, we wondered this too and did some research with local organisations across India, Bangladesh and Nepal. Unfortunately, we found that the cup is not culturally appropriate in many many cultures as it requires insertion. We believe we need to find respectful and appropriate solutions.
2) EDUCATION

Products don't solve all problems! We want to scream this from the roof. We could advertise a one-for-one model but this doesn't encompass the idea that we also need to provide education. We are seeing that education is a really powerful tool to help break taboos and we know that a base-level of education is necessary for all health-related problems. We work alongside Change Associates in Bangladesh, who are doing phenomenal work in this area. 
3) PARTNERSHIPS

We cannot do this alone. It's a very big problem and we know that we need to partner across sectors, from manufacturers to apparel brands. We need to partner with other businesses and other NGOs. We believe it's our job to work ourselves out of a job: we do this in community. We let local organisations guide us, teach us and tell us what to do. We then tap into the resources and expertise we are privileged to have access to. It's beautiful and we are so grateful for this passionate and smart crew. 
 
Some of our partners can be found here.
Recent Projects
AS Colour

Reemi has recently partnered with AS Colour to create real change in the garment industry.

HIF PROGRAMME

Reemi has been selected to be part of Elrha's Humanitarian Innovation Fund (HIF) programme.

Kickstarter

We started Reemi by launching a successful Kickstarter, and got featured on Kickstarter's 'Project We Love'